Following the recent labour market comeback, employer's confidence has reached a nine year high as plans are made for a mass recruitment in this year's third quarter1. The bounce back is likely due to the 1.3 million foreign nationals who made up 16%2 of the UK workforce leaving 'Brexit Britain'; and therefore, leaving behind thousands of vacancies in their wake. In addition to this, the pandemic and the everchanging furlough scheme caused many employers to lay-off staff, resulting in the redundancy rate to rise to 33%3, for fear of being unable to fund their employees; reiterating the labour shortage.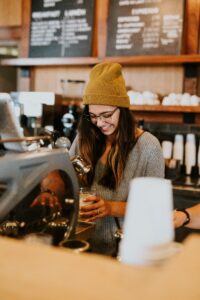 How is this affecting the UK Workforce?
Industries such as hospitality, construction and road hauling have the largest number of vacancies as well as an increased turnover rate. This is due to an influx in the limited rate offered to workers. Employers are now competing to fill vacancies, creating a bidding war for the best employees.
Another way companies are tackling this skill shortage is by upskilling their existing staff. With 44%4of employers stating this is their intention, as it is a cheaper alternative to hiring new employees.
Employers are also being encouraged to take on more apprentices in keeping with Rishi Sunak's planned 40,000 new traineeships5. Research now shows that 26%6 of employers are intending to hire more apprentices to make up for the disruption of careers caused by Covid.
But what does this mean for the UK economy?
As there are so many vacancies it is likely for unemployment rates to decrease from their current standing of 4.8%7. However, due to the rising wages it is also possible that inflation rates will increase as well. As Martin Wolf wrote in the Financial Times, the surge in wages "would raise interest rates, destabilise exchange rates, ignite unrest in labour markets and push the highly indebted towards default"8.
Hence, now is the perfect time to look for a new career as our recruitment partners state that job prospects are looking exceptionally generous. Get in touch with your recruitment agency and when you want to get paid call us.
2https://migrationobservatory.ox.ac.uk/resources/briefings/migrants-in-the-uk-labour-market-an-overview/
 1,3,4,6https://businessnewswales.com/employer-confidence-surges-to-nine-year-high-as-uk-labour-market-bounces-back/
5https://www.independent.co.uk/news/uk/politics/rishi-sunak-budget-apprentices-traineeships-b1808259.html
7https://www.ons.gov.uk/employmentandlabourmarket/peopleinwork/employmentandemployeetypes/bulletins/employmentintheuk/july2021
8https://www.ft.com/content/6cfb36ca-d3ce-4dd3-b70d-eecc332ba1df