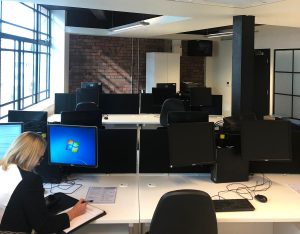 We've got a brand spanking new shiny office!!
As our team grows we decided it was about time we moved to a fresh new space that was a little prettier than our old office and also had more room for our ever-expanding team!
We're really excited to have our own space here. The environment is very sleek and will eventually combine a multitude of businesses under one roof.
The central location is a big help for us too, as it puts us right in the middle of where we need to be. Our sales team is often very mobile and so it lets them run around across the city to meetings in even less time! It's also helping us to be more productive – it's much easier to sit down and get lots of work done when you've got somewhere this nice to do it in.
We're also looking forward to taking full advantage of the beautiful conference room and meeting areas as we get settled in.
There's even a lovely new kitchen so we can make a brew (which is obviously essential).